Get A Free .com Domain Name For Life With A Premium Wealthy Affiliate Account
Published 11-07-2022
I've been a Premium member of Wealthy Affiliate since October 2015. I host all my WordPress blogs (including Top5Programs.com) with their excellent SiteRubix managed WordPress hosting service.
Thanks to Wealthy Affiliate's excellent training courses and video modules, I have also learned a lot about how to build a successful online business on the foundation of a WordPress blogging platform.
After my first month of Premium membership (which costs $49 per month) I jumped onto Wealthy Affiliate's deeply discounted Black Friday offer and have paid $299 annually ever since (saving $289 a year on my subscription).
So my subscription costs just $0.82 per day (which is more than paid for by Google and Leadsleap ads that I run on my blogs, while WA affiliate commissions bring in a nice supplementary income).
Wealthy Affiliate gives you excellent online business training and peace of mind when it comes to hosting your WordPress blogs. The hosting service is second to none and the support you get is swift and efficient.
The $299 Black Friday Discount Offer Is Back – For The LAST TIME!
The good news is that Wealthy Affiliate will again be offering Black Friday discounted prices of $299 Premium price and the $499 Premium Plus – but this is the very LAST OPPORTUNITY to lock in those low prices for life.
Also, from this month, Wealthy Affiliate has started offering a free lifetime .com domain name (worth $15 per year) for Premium members and TWO free lifetime domain names for Premium Plus members.
Premium members can host up to 5 WordPress sites.
Premium Plus members can host up to 10 WordPress sites.
FREE Starter members can build ONE site.
Try out a WA Starter Membership for FREE today! Then, if you like what you see, you'll be well placed to take advantage of the Black Friday discount offer.
When you join WA as a Starter you get the free Level 1 training course that focuses on these 5 core topics:

1. An Introduction to Wealthy Affiliate and how it can help you
2. A detailed overview of how online business works
3. Choosing a niche for your online business
4. Building your own WordPress Website – Yes, by the time you finish this course you will have your own sit up and running!
5. The next steps to take in your business.
When you have gone through the course you will have a WordPress blog and a much better idea of how to build an online business. You'll also be in a good position to decide if Wealthy Affiliate is a good match for you.
In my case, I went through the free Starter training and got my blog up and running, I liked what I saw and wanted to keep going. That was in October 2015, and I'm still with Wealthy Affiliate and have never regretted taking the Black Friday discount!
This screenshot shows you what the Starter dashboard looks like on the inside. Click the screenshot to start your free training: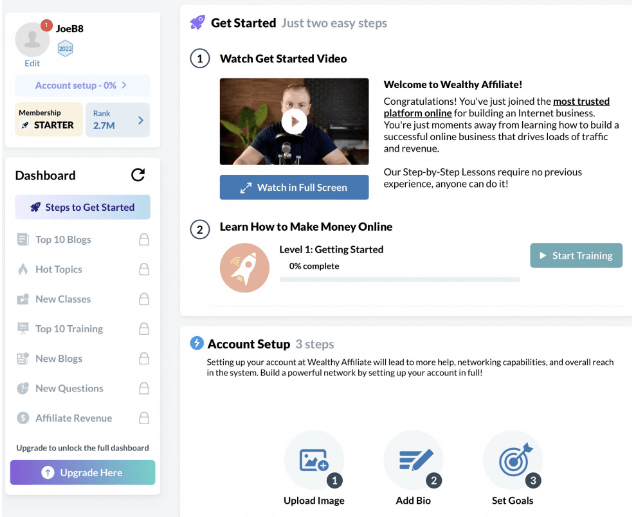 If you have any questions, drop them in the comments below and I'll get back to you!
All the best,
David Hurley
Blogger @ https://top5programs.com
Recent Posts...