Expose Your Ads - Another Traffic Exchange?
Published 06-28-2017
Exposeyourads.com and the People Behind the Concept

EXPYA has been launched by the GtmarketingGroup.com. A place where unique ideas are born and discussed between independent entrepreneurs and website owners. This is where Meenakshi and Vikrant Bapat(owners of TrafficSwap4u.com )first met Klaus Biesel. This is where Klaus(owner of CEOMarketingPath.com) learned about Vikrant's hosting service and about Meenakshi's Traffic Exchange. Quite a power constellation, as Klaus was looking for a reliable hosting service and some help in individual programming. That's how the idea and the Philosophy of Exposeyourads.com was born and brought to live.
Meenakshi and Vikrant are the owners and Klaus Biesel (aka Klausius) has become co admin.
Klaus as former journalist and business consultant (though his German/English sometimes sucks) started his online career in 2006 after he moved to the Philippines. Teaming with an experienced power couple have put all their expertise together to create a traffic exchange which is fair and delivers the most honest untampered traffic to my websites. The price is very affordable, starting at a low lifetime $14.95 subscription, and insures the sustainability of this great service.
Marty Petrizza, who is well known for sites, such as Email-Hog and Referral Frenzy ,and an expert in her field has given EXPYA her approval by joining and promoting Exposeyourads.com at her Referral frenzy site. Her services are tested and proven, and she understands that it delivers results as well.
Pro Traffic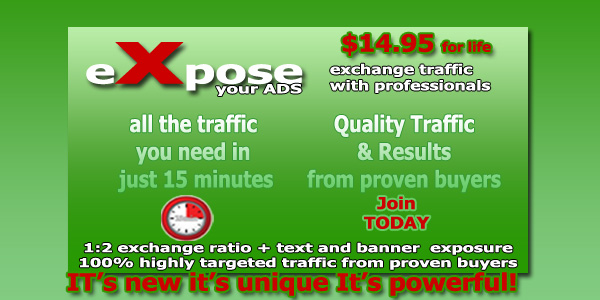 Meenakshi and Vikrant have provided a place to get professional, 100% cheat free, traffic to my promotions. I found that they have a unique way of promoting members' ads that I have not seen before.
They have the only site that will "boot you out" after surfing for 15 minutes. This is to ensure that surfers are actually paying attention to the ads and not tab surfing. This is a paid site which means you have professional buyers looking at your websites.
To make a long story short, after you have joined at EXPYA you read the their philosophy and you will easily recognize that your advertising is in good hands. If you see a one time offer while logging in the first time, catch it.
It's definitely time for something new and different. This site will be hopping with activity so it's where your offers need to be!
To your online success!
Edward McKinney
Free QR Codes for any website and Free
Virtual Business Cards with QR Code:
Recent Posts...