Quotes about starting a business
Published 12-14-2021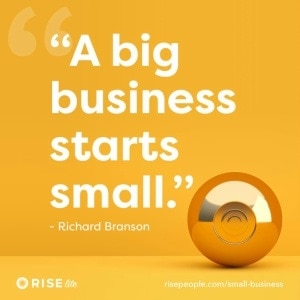 Starting a business is a difficult endeavor—and one that doesn't happen overnight. It takes time and devotion to turn your business into what you've always dreamed it would be. These quotes will give you the drive to build something that you'll be proud of.
1. "Risk-taking is the cornerstone of empires."
— Estée Lauder, Businesswoman and co-founder of Estée Lauder
2. "Feeling confident—or pretending that you feel confident—is necessary to reach for opportunities. It's a cliché, but opportunities are rarely offered; they're seized."
— Sheryl Sandberg, Business executive and COO of Facebook
3. "A brand for a company is like a reputation for a person. You earn reputation by trying to do hard things well."
— Jeff Bezos, Founder and executive chairman of Amazon
4. "In a busy marketplace, not standing out is the same as being invisible."
— Seth Godin, Author, and former business executive
5. "I think a simple rule of business is, if you do the things that are easier first, then you can actually make a lot of progress."
— Mark Zuckerberg, CEO, and co-founder of Facebook
6. "Effectively, change is almost impossible without industry-wide collaboration, cooperation and consensus."
— Simon Mainwaring, Global keynote speaker, CEO of We First, and best-selling author
Read: 100+ teamwork quotes to motivate and inspire collaboration
7. "Whenever you see a successful business, someone once made a courageous decision."
8. "In the past, a leader was a boss. Today's leaders must be partners with their people... they no longer can lead solely based on positional power."
Recent Posts...